World premiere at LogiMAT 2022: Cargoclix presents new app for more efficient supply chain processes
Freiburg-based system house presents a new application for the first time that enables communication between location and driver without media discontinuity. 
Direct recording of all process-relevant information in real time.
(Freiburg i.Br., 22 February 2022) The software specialist Cargoclix from Freiburg im Breisgau will present a world premiere at the Stuttgart intralogistics trade fair LogiMAT 2022 from 31 May to 2 June. In Hall 6, Stand F60, the system provider will be showing for the first time a newly developed app that enables communication without media discontinuity between all the people involved in the delivery process and thus makes the processes at the ramp even more efficient. "Our latest app, which is directly connected to our proven SLOT time slot management system or can be used as a stand-alone solution, enables direct communication between the warehouse or logistics location and the driver," reports Professor Dr. Victor Meier, consulting partner at Cargoclix. This is ensured by the direct recording of all information relevant to the delivery process in real time. Further details about the app will be announced shortly before LogiMAT.
The company also has some tried and tested products in its trade fair luggage. Cargoclix will once again be showing its two top products in Stuttgart: The SLOT time slot management system and its logistics platform TENDER, which is one of the leading international tender platforms for transport and logistics contracts. At 50 cents per booking, SLOT continues to be one of the most affordable and at the same time most powerful time slot management systems used by logistics service providers as well as in industry and trade across all sectors. 
The modularly adaptable time slot management system SLOT, which can be operated either web-based or fully integrated into ERP and WMS systems, has recently recorded an enormous increase in users. "Due to the Corona pandemic and a resulting increased need for stably organised supply chains, the number of our users increased by more than 53 per cent from February 2020 to the end of 2021 and recently exceeded the 100,000 mark," Meier continues. The system is currently in use at around 1,800 customer locations and its functionalities are constantly being developed and adapted. For example, the system now also offers ramp operators the option of informing logistics service providers and truck drivers directly via the platform about the regulations and Corona rules that apply at the respective location. 
The cloud-based software TENDER, which enables the processing of worldwide tenders for contracts for transports by road, rail, air, sea and inland waterways as well as for courier express parcel services and logistics services, is characterised above all by its ease of use. "With this solution, we want to give our customers a tool with which they can intuitively carry out even extensive tenders with a small amount of time," Meier emphasises. In addition, TENDER works with a favourable and flexible pricing model and has a very high reach due to a large network of connected forwarders and carriers.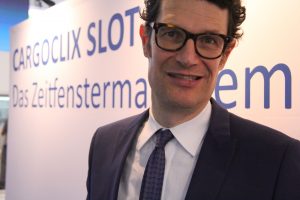 About Cargoclix
Cargoclix is a neutral internet marketplace for the electronic tendering of transports and logistics services as well as a provider of modular time slot management systems. 
The range of services offered by the logistics platform "Cargoclix TENDER" includes worldwide tenders for contracts for road, rail, air freight, sea and inland waterway transport, courier express parcel services and logistics services such as warehousing. With over 28,000 registered members from industry, trade and freight forwarding, TENDER is one of the leading international tender platforms for transport and logistics.
The central product of the time slot management business unit is the modularly adaptable software "Cargoclix SLOT" for optimising processes at the ramp. With more than 100,000 members, SLOT is one of the most widely used time slot management systems.
Cargoclix is a brand of Dr. Meier & Schmidt GmbH. The company was founded in 1998 and is based in Freiburg i.Br. www.cargoclix.com