LOBERON facilitates deliveries with Cargoclix SLOT
For several months now, the cloud-based solution from the Freiburg-based system house has been providing online furnishing consultant and furniture producer LOBERON with more transparency and time savings at the ramp
Time slot booking at two locations
(Freiburg i.Br., 11 January 2022) The online furnishing consultant and furniture manufacturer LOBERON from Nuremberg is now using the cloud-based SLOT time slot management system from Cargoclix to optimize its incoming goods. At two of the company's logistics locations, in Pegnitz and Hoppegarten, the solution from the Freiburg-based system company now ensures more planning reliability and thus a high level of time savings at the ramp. "We decided on a time slot management system because we wanted to put an end to the flood of emails in the notification process," says Thomas Friedrich, Head of Logistics at LOBERON. "The introduction of the system has not had a significant impact on the waiting times of the truck drivers at the ramp, as we only handle around five to six trucks per day and location," he reports. "SLOT has, however, considerably simplified the organization of our ramps by making it possible to book time slots," he continues. 
Anyone who wants to book a time slot for delivery at LOBERON already has the opportunity to do so one month before the desired date. This enables logistics service providers to plan ahead. Short-term slots can be reserved up to 48 hours before delivery. "All service providers have accepted the system 100 per cent right from the start," Friedrich draws a positive conclusion from the first months. "There have been no deliveries without booked time slots since then."
In Pegnitz, LOBERON operates its distribution centre for parcel-ready goods that can be sent via CEP service providers. The furniture distribution centre for two-man handling is based in Hoppegarten. According to Thomas Friedrich, time slot management systems are generally interesting for the e-commerce sector, among other things because of the currently tense container procurement situation and the associated delivery delays: "Cargoclix helps here in the right place and bundles the circumstances centrally and transparently."
About LOBERON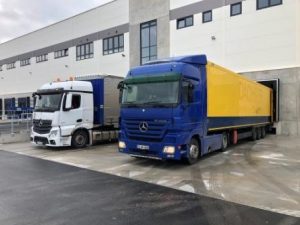 LOBERON stands as a designer, furnishing consultant and furniture producer for furniture, home accessories and home textiles in various styles, including country house style. The company focuses on lively materials such as wood, metal and fabric. The range includes not only sofas, dining tables and beds, but also accessories such as extravagant lamps, mirrors and decorative items. The company is headquartered in Nuremberg and operates warehouses in Pegnitz and Hoppegarten.
About Cargoclix
Cargoclix is a neutral Internet marketplace for the electronic tendering of transports and logistics services as well as a provider of modular time slot management systems. 
The range of services offered by the logistics platform "Cargoclix TENDER" includes worldwide tenders for contracts for road, rail, air freight, sea and inland waterway transport, courier express parcel services and logistics services such as warehousing. With over 28,000 registered members from industry, trade and freight forwarding, TENDER is one of the leading international tender platforms for transport and logistics.
The central product of the time slot management business unit is the modularly adaptable software "Cargoclix SLOT" for optimizing processes at the ramp. With more than 100,000 members, SLOT is one of the most widely used time slot management systems.
Cargoclix is a brand of Dr. Meier & Schmidt GmbH. The company was founded in 1998 and is based in Freiburg i.Br. www.cargoclix.com